Issue 362
Index:
(Click on any of them to be re-directed)
Editorial
Announcements
Fever Events
Special Events and Tournaments
Fever Jobs
Inside Fever
Fever FNG
Member Spotlight
Fever Flair
Behind the scenes
New Releases
E-Sports
Game News
Tech News
Miscellaneous
Gaming Beats
Funnies
Greetings! i have nothing to put here , yet the weekly has lots of stuff . Mostly good and bad from Blizzcon .
P.S I vote for Divine kitty to sing a Christmas song.
​
Want a new friend? Do you have a thing for ducks with guns?
Then talk to SunKenRock, cause he has 3 spare copies and not any friends on steam to shoot, I mean gift DUCK game to.​
The usual week filled with game nights with CSGO Mondays and Overwatch Tuesday, then you will notice the various weekend events that are more for the laid back and relaxed. Need a break from your normal games, or want to catch up with members? Well Cards aganist humanity will be Friday, and probably a movie night on Sunday.
Attention, attention!​
Linny-Chan
has tallied up the names, and selected winners at random, AND has game keys to give away.
You can choose to use them yourself, pass, or send to a friend! They will be given out on a first come, first serve basis.
CONSTANT
Xaiv
Violet
Bogo
Bot Doc
PsyJester
Kirbz
Shiven
Shiny
Cookie
Lycan
Entropian1960
trep
Jollibee
Sidonis
Congrats to our winners, and thanks for being a part of our community here at Fever!
some games have been claimed Link

Also
Linny-Chan
has said something about the (
a
wards system has been installed - and to expect to see new awards, soon
). With a lot of emphasis on the exclamation !!!!!!!!!!!!
(Disclaimer - Linessah is in fact older than i am and the honorifics would be incorrect on my part.She gonna be 30 before me!)
Game Nights:
Calendar
If you would like to help ensure your game's game nights, events, etc. are listed and want to have the ability to post them on the calendar, please let Linessah know.If your game nights do not appear on this calendar over the next few days, please let Violet ,and or Linessah know. They will get them squared away. All can be found on discord as well.
To convert the times to your timezone, use the following tool: Time Zone Converter. Please check the Discord Events channel for reminders about events. Also with some game nights being made up for that day due to the people whom are on.
Special Events and On-going Tournaments
Clan Jobs: In and out of gaming
Fever Clan Job Roster Master List
This link will take you to everything Fever and provides a table of contents to direct you to what you may seek. If you do not see anything for game that you are looking for (or might be interested in starting a group in) contact
Head - @Thundernut,
Deputies
- @Gizmo256, @Axle (Recruitment)
Diablo: Diablo Immortal - Thoughts?
League of Legends: What everyones best champ is currently
Path of Exile: Private Leagues for your friends or even competition
PUBG: PC 1.0 Update #23
Aime / TourGuide / Lethelen / Zelda Rules / Friggen
SnugglyTortoise / Seanofthedead / gfrench / Mimi_Q / Yurikomi
H4WKEN / xstockerx / Celestial / Zodiac
​
SunKenRock

: What introduced you to Fever, who did you befriend first?


Reaper314159

: I was looking for some people to play my main game with and this was the first group I found. Once I was here I never left.
SunKenRock

: What do you like most about Fever?


Reaper314159

: For sure the community aspect is my favorite. Just a very tight nit group of people all doing the things they love.
SunKenRock

: What's the origin of your gaming name? Did you ever use another name?


Reaper314159

: I'm not really sure why I picked it to be honest. I just kinda liked the grim reaper look so I chose it.
SunKenRock

: Who or what got you into gaming?


Reaper314159

: Actually it was Starcraft broodwar. Thats the first game I can remember playing at least. I played it back in 2006 when I was 6 and played it for fun not really understanding it. I think that's what put me on the path though. No atari for me sadly ha
SunKenRock

: Do you have an all-time favorite game?


Reaper314159

: My favorite overall game is fallout, my favorite competitive game is Starcraft 2. can't just pick one
SunKenRock

: What games do you activity play these days?


Reaper314159

: Pretty much only starcraft, I play that competitively for money so I try to focus on that as much as I can.
SunKenRock

: How many hours do you put in your main game a week?


Reaper314159

: Average day is 8 hours so about 56.
SunKenRock

: What kind of things do you enjoy outside of gaming.


Reaper314159

: I play the trumpet as a side hobby. I played in highschool and keep playing afterwards for the love of music.
SunKenRock

: Is there any place youd love to vacation at if money wasnt the issue.


Reaper314159

: hm... I'm honestly not sure. Maybe a foreign country?
SunKenRock

: What was the longest gameplay you've done. Where you only took pauses for the restroom? wo?


Reaper314159

: For sure when I first played fallout 4. I did a 16 hour run, and I still have no regrets about it.
SunKenRock

: Are there any goals you seek to achieve in the near future, maybe something you hope to accomplish in a year or two?


Reaper314159

: I want to live in a team house for sc2 eventually, not sure how long it will take but I figure not too long.
SunKenRock

: Do you fully support digital in gaming. Should Physical remain in some form (i.e Discs)? Being a console gamer as well, I feel while digital is good for storage and can be cheaper. There is a loss sense of ownership, and also the need for connect to access more things


Reaper314159

: hm... I have enough faith that digital if anything goes wrong they can just restore it which makes up for a lot of problems, though I could see the sentimental side of wanting a physical disk, like in the rouge sc2 player spotlight his broodwar disk meant a lot to him and was highlighted throughout
SunKenRock

: Do you have any Hearty Advice for members? Thank you for taking the time to answer these questions


Reaper314159

:Just do your best to meet people here, you can make friendships that can last a long time, you just have to be outgoing to see them
I'm glad for the short time I've been talking to reaper he has been great. Whether he sees this part, I'm sure I'm not alone when I say I wish him luck with gaming and starcraft as a whole. -

SunKenRock
ARK: Survival Evolved: Extinction DLC [PC, PS4, XBO] – November 6
GRIP: Combat Racing [PC, PS4, XBO, Switch] – November 6
Overkill's The Walking Dead (US) [PC] – November 6
Hitman 2 [PC, PS4, XBO] – November 13
Spyro Reignited Trilogy [PS4, XBO] – November 13
Shadow of the Tomb Raider: The Forge DLC [PC, PS4, XBO] – November 13
Fallout 76 [PC, PS4, XBO] – November 14
Pokemon Let's Go, Pikachu! / Eevee! [Switch] – November 16
Battlefield 5 [PC, PS4, XBO] – November 20
Farming Simulator 19 [PC, PS4, XBO] – November 20
Darksiders 3 [PC, PS4, XBO] – November 27
Ride 3 [PC, PS4, XBO] – November 30
League of Legends Worlds 2018
Blizzcon Tournaments 2018
Warcraft Arena Grand Finals
Method Orange vs GOSU
Overwatch Grand finals
South Korea vs China
Heroes of the storm Grand Finals
GenG vs Dignitas
Starcraft II WCS Global Grand Finals
Serral vs Stats
​
This weekend saw the twelfth annual BlizzCon take place at the Anaheim Convention Center in Anaheim, California. If you're unaware of said event, BlizzCon is a yearly, utterly epic celebration of Blizzard Entertainment's hugely popular videogames, as well as the communities of iconic titles like World Of Warcraft and Overwatch.
Warcraft III remake! Warcraft Patch, and Classic news.
​
Fans of oversized armour rejoice! It's been confirmed that 'sometime next year', a remake of the seminal real time strategy game Warcraft III: Reign Of Chaos, is coming. Entitled Warcraft III: Reforged, we're hearing it'll be a Complete Edition – which means the inclusion of expansion pack The Frozen Throne. Intriguingly, it's not just a graphical update – though, since the game arrived as far back as 2002, that's more than welcome. There's also going to be a bunch of modified campaign maps. Designer Michael Scipione told PC Gamer that the brief was to "not break the game" but to expect rerecorded and redone voiceover and cut-scenes. In other Warcraft news, following World Of Warcraft's first major patch – Tides Of Vengeance – due on December 11th, the second patch, the largely underwater Rise Of Azshara was announced. No arrival date yet, though we're hearing there'll be a whole new continent included, called Mechagon. Gnomes that replace their body parts with robot limbs live there! Last but not least, World Of Warcraft: Classic, which arrives next summer, now has an online demo available to anyone with a WOW subscription. It's only available until November 8th, and there'll be limited playtime to deal with the demand.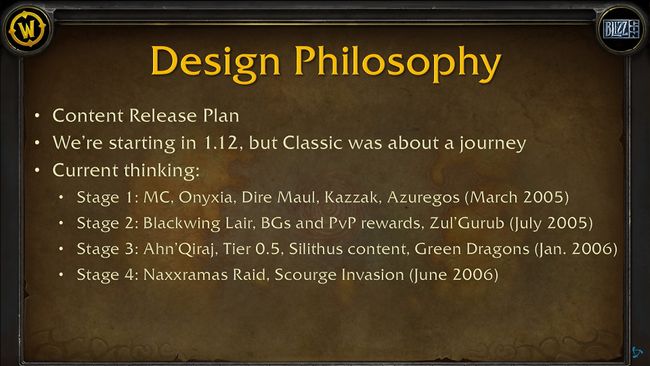 ​
Ashe is Overwatch's New Hero
​
The world's most fun hero shooter is getting a new character, Ashe. She's a gunslinger, she carries a rifle, has a past that concerns Jesse McCree (who also stars predominantly in the new cinematic short – Reunion – that Blizzard showcased this weekend, alongside a character called Echo that we believe will be playable in time) and she's got a robot butler called B.O.B! Not only that, but after showing off the fruits of the Overwatch/Lego team-up last month – a limited-edition Bastion figure – the conference announced that Lego versions of (deep breath) Tracer, Widowmaker, Hanzo, Genji, Soldier, 76, McCree, D.Va, Reinhardt, Pharah, Mercy, Reaper and Winston are coming on January 1st 2019. What we're most excited about though, is that Lucio-Oh's – Overwatch's in-game cereal – are, thanks to a team up with Kellogg's and an online campaign to make it so, getting an actual physical release! We're hearing they'll have a 'sonic vanilla' flavour, and that they'll include a redeemable Loot Boost!
HEARTHSTONE'S NEXT EXPANSION IS ALL ABOUT TROLLS
A new Hearthstone expansion is here and it's called Rastakhan Rumble. As anyone who's been playing World of Warcraft recently knows, that means it's going to be all about trolls this time around. Speaking of which, this is also going to be the first time that a Hearthstone expansion is keeping up with current WoW lore, which means there could be some exciting storytelling going on in the expansion. As for the new cards, not much has been revealed yet, but it appears that each class is going to get its own specific legendary cards that help compliment the styles that they are best at. Rastakhan Rumble will be out on Dec. 4, meaning fans won't have to wait long to get their hands on all the new cards.
New Diablo… but it's not what you were expecting!
​
Despite Blizzard attempting the temper expectations that BlizzCon might see the announcement of the long-awaited Diablo 4 – even going so far as to release a blog declaring 'good things come to those who wait… but evil things often take longer' before the conference even began! – the news that the new Diablo announced at the conference wouldn't be the sequel to 2012's brilliant Diablo 3 caused the internet to melt. It's a shame the announcement received such an angry reaction, because it's not all bad news. The Diablo we are getting (which is going by the name Diablo Immortal) is a mobile game. Apparently, it takes place between the events of Diablo 2 and 3, and we have to say, it looks beautiful. No new news yet however on the animated Diablo series that's rumoured to be coming to Netflix, but we do know that Andrew Cosby – writer of the Hellboy reboot – is on board.
Announced the arrival of Orphea, the first character to be designed for the game, rather than imported from another Blizzard franchise. There's also going to be a load of new skins and quests added to the game next year.
Links:polygon,
nme blog
Destiny 2 Free on PC Until November 18
​
Publisher Activision and developer Bungie announced Destiny 2 will be free on Windows PC until November 18 to celebrate the one year anniversary.
The only requirement is that players should have a Battle.net account, as the free game will be downloaded through Blizzard's Battle.net client. It is also free to sign up for Battle.net, but accounts that are created after November 2, 11:00 a.m. PDT are required to enable Blizzard's SMS Protect feature before claiming the Destiny 2 game license, which is redeemable as a free gift from https://account.blizzard.com/gifts/.
Players who already own Destiny 2 on PC will instead receive an exclusive emblem, which becomes available in December. In addition, new players will be able to try Gambit, the new 4v4 hybrid mode that comes with the game's latest expansion Forsaken, from November 9 to November 11 during the Gambit Free Weekend.
Link:
digitaltrends
Rust now has hot air balloons and missiles
​
Rust, the survival game where you start by banging a rock against a tree and then progress to crafting automatic weapons, has opened up a new mode of travel that lets you take to the skies: hot air balloons. You'll find them scattered around the map, and once they're fueled you can fly wherever the wind carries you. Balloons should hold about four or five passengers, making them the ideal way to soar above the defenses of a fort you'd like to raid.
But every Sherlock has his Moriarty, and you may find your balloon shot down thanks to the inclusion of surface-to-air missiles, which also arrived in the Rust update. You can purchase a deployable SAM site from scientist outposts for 500 scrap and once stocked with ammo it'll automatically target any nearby balloons.
Note: this includes your own balloon. SAMs aren't psychic. They just love killing balloons, so they'll shoot yours down too. So remember to either unload the SAM site before you launch, or just don't fly anywhere near your own fort.
Link: pcgamer
After nine years in deep space collecting data that indicate our sky to be filled with billions of hidden planets – more planets even than stars – NASA's Kepler space telescope has run out of fuel needed for further science operations. NASA has decided to retire the spacecraft within its current, safe orbit, away from Earth. Kepler leaves a legacy of more than 2,600 planet discoveries from outside our solar system, many of which could be promising places for life.
"As NASA's first planet-hunting mission, Kepler has wildly exceeded all our expectations and paved the way for our exploration and search for life in the solar system and beyond," said Thomas Zurbuchen, associate administrator of NASA's Science Mission Directorate in Washington. "Not only did it show us how many planets could be out there, it sparked an entirely new and robust field of research that has taken the science community by storm. Its discoveries have shed a new light on our place in the universe, and illuminated the tantalizing mysteries and possibilities among the stars."
Kepler has opened our eyes to the diversity of planets that exist in our galaxy. The most recent analysis of Kepler's discoveries concludes that 20 to 50 percent of the stars visible in the night sky are likely to have small, possibly rocky, planets similar in size to Earth, and located within the habitable zone of their parent stars. That means they're located at distances from their parent stars where liquid water – a vital ingredient to life as we know it – might pool on the planet surface.
The most common size of planet Kepler found doesn't exist in our solar system – a world between the size of Earth and Neptune – and we have much to learn about these planets. Kepler also found nature often produces jam-packed planetary systems, in some cases with so many planets orbiting close to their parent stars that our own inner solar system looks sparse by comparison.
"When we started conceiving this mission 35 years ago we didn't know of a single planet outside our solar system," said the Kepler mission's founding principal investigator, William Borucki, now retired from NASA's Ames Research Center in California's Silicon Valley. "Now that we know planets are everywhere, Kepler has set us on a new course that's full of promise for future generations to explore our galaxy."
Launched on March 6, 2009, the Kepler space telescope combined cutting-edge techniques in measuring stellar brightness with the largest digital camera outfitted for outer space observations at that time. Originally positioned to stare continuously at 150,000 stars in one star-studded patch of the sky in the constellation Cygnus, Kepler took the first survey of planets in our galaxy and became the agency's first mission to detect Earth-size planets in the habitable zones of their stars.
"The Kepler mission was based on a very innovative design. It was an extremely clever approach to doing this kind of science," said Leslie Livesay, director for astronomy and physics at NASA's Jet Propulsion Laboratory, who served as Kepler project manager during mission development. "There were definitely challenges, but Kepler had an extremely talented team of scientists and engineers who overcame them."
Four years into the mission, after the primary mission objectives had been met, mechanical failures temporarily halted observations. The mission team was able to devise a fix, switching the spacecraft's field of view roughly every three months. This enabled an extended mission for the spacecraft, dubbed K2, which lasted as long as the first mission and bumped Kepler's count of surveyed stars up to more than 500,000.
The observation of so many stars has allowed scientists to better understand stellar behaviors and properties, which is critical information in studying the planets that orbit them. New research into stars with Kepler data also is furthering other areas of astronomy, such as the history of our Milky Way galaxy and the beginning stages of exploding stars called supernovae that are used to study how fast the universe is expanding. The data from the extended mission were also made available to the public and science community immediately, allowing discoveries to be made at an incredible pace and setting a high bar for other missions. Scientists are expected to spend a decade or more in search of new discoveries in the treasure trove of data Kepler provided.
"We know the spacecraft's retirement isn't the end of Kepler's discoveries," said Jessie Dotson, Kepler's project scientist at NASA's Ames Research Center in California's Silicon Valley. "I'm excited about the diverse discoveries that are yet to come from our data and how future missions will build upon Kepler's results."
Before retiring the spacecraft, scientists pushed Kepler to its full potential, successfully completing multiple observation campaigns and downloading valuable science data even after initial warnings of low fuel. The latest data, from Campaign 19, will complement the data from NASA's newest planet hunter, the Transiting Exoplanet Survey Satellite, launched in April. TESS builds on Kepler's foundation with fresh batches of data in its search of planets orbiting some 200,000 of the brightest and nearest stars to the Earth, worlds that can later be explored for signs of life by missions, such as NASA's James Webb Space Telescope.
Link: nasa
Back To Top
Thank you for reading and have a nice week!
-
The Fever Weekly Team
​