Issue 356
Index:
(Click on any of them to be re-directed)
Editorial
Announcements
Fever Events
Special Events and Tournaments
Fever Jobs
Inside Fever
Fever FNG
Behind the scenes
Tech News
E-Sports
Game News
Miscellaneous
Gaming Beats
Funnies
Well here we are , with another week passed by and Monday has become(or ended). There were some WoW raids , Rank ups , Game nights , D3 Event and that is from what i remember. Of course there are the usual things that happen on discord , so never be afraid to pop on and say hi . Trust me most people dont bite (
Medic739
might) and we all are here to have fun with whatever game can get our attention.
-
SunKenRock
​
Ladies and gentlemen, it is that time again! It's been a while, but I thought it would be nice to bring back another round of Fever Appreciation.
Fever Clan has been around for many years, and while the faces may change the heart of the community remains. We're all here to game, have fun, and have a nice space to enjoy each others' company.
So it is time to butter up your buds or show a little kudos to a stranger! It doesn't matter what this person may have done: helped you level, learn a game, be a kind ear, or work hard on a project within Fever. It's just that simple!
Click
HERE
for the thread. You only have till October 31st !
Results from Diablo 3 Event
1st place Kim & team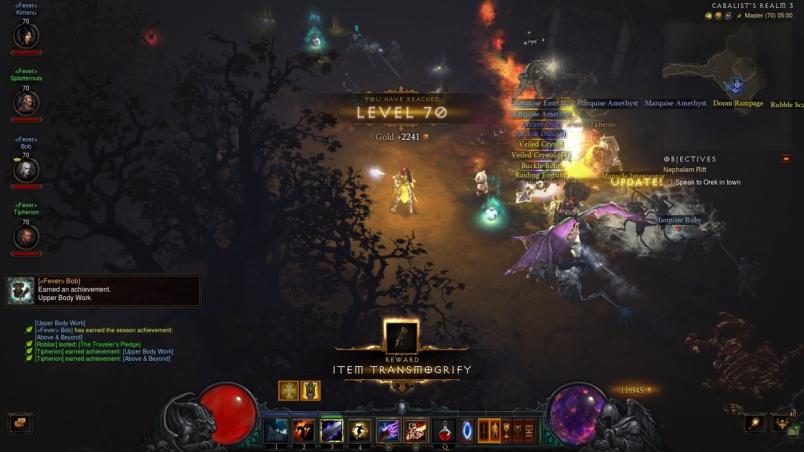 2nd place Ghist & team
3rd Place Ghost AQC & team
4th Place Zahbo & team
​
Game Nights:​
If you would like to help ensure your game's game nights, events, etc. are listed and want to have the ability to post them on the calendar, please let Linessah/Mr Cruz know.If your game nights do not appear on this calendar over the next few days, please let Linessah, MrCruz, Demonya, or Aussietye know. They will get them squared away. All can be found on discord as well.
​
To convert the times to your timezone, use the following tool: Time Zone Converter. Please check the Discord Events channel for reminders about events. Also with some game nights being made up for that day due to the people whom are on.
​
Extra Life Fever event​
Aussietye will be holding an Extra Life Fever event this year on game day

November 3rd

. Anyone who joins Fever's team to help raise money for your local CMN hospital will receive 500 fever coins. Here is the link to join up: Click Here
He is looking for additional help for the event, so contact him on the forums and/or discord.
​
Clan Jobs:In and out of gaming
​
Fever Clan Job Roster Master List
This link will take you to everything Fever and provides a table of contents to direct you to what you may seek. If you do not see anything for game that you are looking for (or might be interested in starting a group in) contact
Head - @

Thundernut

, @

Kimenu


Deputies - @

MrCruz

,@

Daddy


@

Axle

(Recruitment)
Nessingwary's News 2nd edition
League of Legends: Game Night Interest?
RTS & Strategy Communities: Dead Frontier 2
Heroes of the Storm:
Upcoming Balance & Design AMA with Heroes Developers
Jstorms
/
KindaAmazing
/
Cpt. Sayonara
/
wicklandp
/
DrunkenMonk
SugarShane
/
Selarticus
/
LegendJohn
/
grappler
/
Yettiman
Gamewarrior
/
Rocketshipping
/
SirNickdaChamp
/
Punikin633
/
Yue
cigey
/
CaptainSabre
/
statue1007
/
jenhearter
/
Standfast
RLQRY
Hackers Have Already Cracked Open The Switch Online's NES Library
​
Nintendo Switch Online hasn't even been out for a day and hackers have already found a way to upload new NES games to its existing library.
Nintendo Switch Online, a paid subscription service required to play most Switch games online starting today, also included other features like cloud backup saves and a downloadable library of 20 NES games. These NES games, which include stuff like
Super Mario Bros. 3
and
River City Ransom
, come with a new online multiplayer component. Otherwise, they appear to function very much like their original versions, many of which recently appeared on the NES Classic. According to recent reports by hackers, both emulators work in a very similar way, which makes it possible for people to add their own NES games to the Switch Online's library.
Overnight, a Switch hacker who goes by DevRin uploaded a video to YouTube that appeared to show the opening of
Battletoads
running on the new Switch Online NES games app. This inspired a modder who goes by KapuccinoHeck to investigate further in conjunction with two others, OatmealDome and Master_F0x.
In a series of tweets today, KapuccinoHeck shared their findings, claiming the Switch Online app that houses these NES games treats them like plain .nes files, with a database file that lists in plaintext all of the compatible NES games, and which can be manipulated to add others. In other words, there wasn't a whole lot standing in the way of people hacking the emulator app and adding their own new NES games to it. "Here have the NES Classic emulator and a few ROMs lol go wild," is how KapuccinoHeck described it in one tweet.
They also shared a video of the opening of
Kirby's Adventure
, which is not currently one of the NES games included with the launch of Switch Online; in the video, it appeared to be running on the console via a ROM hidden under the
River City Ransom
box art section. Since then, DevRin has posted a video of of
Battletoads
actually being played on the Switch from within the app.
It isn't that easy to get these games onto the Switch. In an email, KapuccinoHeck told
Kotaku
the NES games can only be added to hacked Switches, which remains a complex undertaking and carries the constant threat of having your account banned by Nintendo. "I would highly advise against anyone else doing it as I've been told there's a lot of data from the app being sent to Nintendo and that it has a fair few legitimacy checks that occur at random," they said.
In the meantime, KapuccinoHeck doesn't think the vulnerabilities in the Switch Online NES library will be easy for the company to quickly patch out. When asked for comment on the matter, a spokesperson for Nintendo of America told
Kotaku
, "We have nothing to announce on this topic."
Link:
Kotaku
Following the Paris qualifying stages, the teams were drawn into their brackets, with seeding: teams that came first in their group would be placed against teams who had come second, giving a likely advantage to those teams (and the safety of not being matched against last year's victors South Korea if a team did come first).
Those brackets are as follows:
Bracket 1:
Team France v Team Canada
Team China v Team Finland
Bracket 2:
Team U.S. v Team U.K.
Team South Korea v Team Australia
The winners of those first two matches will then face off in the semi finals, leading on to the finals on the final day of BlizzCon.
Teams are primarily playing for glory and visibility – all teams that qualified for the Overwatch World Cup finals get the same prize money, but a little national pride, personal pride, and the ability to show off to all the eyes from the public and the Overwatch League is likely to be a great motivator.
Link:
PCgamesN
Following reports that Telltale Games has laid off a majority of its staff, CNET can confirm that the storied video game studio is planning to close its doors for good, with only a skeleton crew of 25 remaining to "fulfill the company's obligations to its board and partners."Known for pioneering episodic games where the choices you'd make in one episode would carry on to the next -- most prominently The Walking Dead, Batman, Minecraft Story Mode and The Wolf Among Us -- the studio attracted big brands like Game of Thrones, Back to the Future and Guardians of the Galaxy with the same formula, and was working on a Stranger Things game for Netflix before its collapse. (Netflix says it's figuring out what to do about that now.)In 2012, we praised The Walking Dead in particular for "an interactive storytelling experience that other zombie games can only dream of delivering."The Walking Dead continued with three full season (and a Michonne spinoff) in the years since, but it looks like its just-commenced final season will be cut short.Melissa Hutchinson, who played long-term survivor Clementine tweeted a statement over the weekend, as previously reported by Nintendo Life.
"I, unfortunately, like most of you, do not have the details on how this all came to be and I also do not know the fate of the final season of TWD," the actor wrote. "To my knowledge, they will release Episode 2 and then that will be it. It hurts me that you, the fans, will not get to see Clem's journey through to the end."
The first episode of the game's final season was released on Aug. 14 and the second is out on Tuesday. The episodes weren't sold separately; they were only available as part of the season pass, so fans paid up front for the season in its entirety.
Link:
Cnet
​
Sony announces PlayStation Classic
​
Sony is following in Nintendo's footsteps with its own miniaturized throwback console: the PlayStation Classic, a new version of the original PlayStation that you can hold in your hand and easily connect to a modern television.
Like Nintendo's NES Classic and SNES Classic, the PlayStation Classic will come packed with a list of beloved hits from the system's original library. There will be 20 games in all, but Sony only announced five of them today:
Final Fantasy 7
,
Jumping Flash
,
R4: Ridge Racer Type 4
,
Tekken 3
and
Wild Arms
. "All of the pre-loaded games will be playable in their original format," the company said in an announcement post on the
PlayStation Blog
.
Sony plans to launch the PlayStation Classic worldwide on Dec. 3 — the 24th anniversary of the PlayStation's release. (The PS1 debuted in Japan on Dec. 3, 1994, and Sony didn't bring it to the West until September 1995.) The retro console will retail for $99.99 in the U.S., £89.99 in the U.K., €99.99 in Europe and 9,980 yen in Japan.
For that price, customers will get the system and two controllers. The gamepads are full-size replicas of the PS1's original controller, not the DualShock, so they and don't include analog sticks or vibration. As you can see in the gallery above, the gamepads are wired USB devices that plug into the console in the same spot as the original system's controller ports.
You can't pop PS1 memory cards into the PlayStation Classic — save files are stored on a virtual memory card. However, the replica buttons on the top of the system do have actual functions: Power does what you'd expect; the open button swaps virtual discs; and the reset button suspends games. There's no word on whether the PlayStation Classic will include visual filters or display settings like the options available on Nintendo's retro consoles.
The PlayStation Classic is about 45 percent smaller than the system it's modeled after, according to Sony. The back of the unit features only two ports: HDMI-out for video and audio, and micro-USB for power. The package comes with cables for both, but it doesn't include an AC adapter, so users will need to supply their own or plug the system into a 5-volt, 1-amp USB port.
There also appears to be a plastic cover on the rear of the system, but there's no word yet on what's beneath it. (On the original PS1, there was a parallel port under that cover.) A common criticism of the NES Classic and SNES Classic is that there's no way to get additional games on the mini consoles without hacking them. Could this flap be hiding something like an Ethernet port, with Sony allowing customers who own digital PSOne Classics titles to play them on this retro console? Or is it just for show?
Link:
Polygon
CD Projekt Red dates full Gwent: The Witcher Card Game release
​
Gwent: The Witcher Card Game, and related-but-standalone single-player Gwent adventure Thronebreaker: The Witcher Tales, will be released 23rd October on PC, and then on PlayStation 4 and Xbox One 4th December.
Gwent: The Witcher Card Game has been in public beta on PC for a while but there's still one enormous update to come: Homecoming. Homecoming will completely change the visual style, taking the board into three-dimensions and having hero characters stand to the side of play. The three playing lanes will be reduced to two, too, and there will be new mechanics added. The developer diary below offers a glimpse at what Homecoming will look like; watch it, it's seriously impressive.
Thronebreaker: The Witcher Tales is the ambitious 30-hour single-player adventure which stands alone from the Gwent multiplayer game. The cards you use there are exclusive to Thronebreaker, although some inspired-by cards will be added to Gwent.
The Thronebreaker story itself is about Meve, the war queen of Lyria and Rivia, but can it reach the dizzying heights of a CD Projekt Red tale like the Bloody Baron from The Witcher 3? I'm going to play it soon and hope to find out.
No pricing for Thronebreaker has been announced.
Link:
Eurogamer
Today we're excited to announce Red Dead Online, a new online connected experience set against the backdrop of Red Dead Redemption 2's enormous open world.
Red Dead Online is an evolution of the classic multiplayer experience in the original Red Dead Redemption, blending narrative with competitive and cooperative gameplay in fun new ways. Using the gameplay of the upcoming Red Dead Redemption 2 as a foundation, Red Dead Online will be ready to be explored alone or with friends, and will also feature constant updates and adjustments to grow and evolve this experience for all players.
Red Dead Online is planned for launch in November 2018, initially as a public beta, with more news to come soon. As with most online experiences of this size and scale, there will inevitably be some turbulence at launch. We look forward to working with our amazing and dedicated community to share ideas, help us fix teething problems and work with us to develop Red Dead Online into something really fun and innovative.
Access to Red Dead Online is free to anyone with a copy of Red Dead Redemption 2 on either PlayStation 4 or Xbox One.
Red Dead Redemption 2 will be available for PlayStation 4 and Xbox One on October 26, 2018.
Link:
Rockstargames
Other News Stories
H1Z1 gets 're-formed dev team' and a new name
Fallout 76's map is called Appalachia
Fortnite Season 6 is coming a week later
Back To Top
Thank you for reading and have a nice week!
-
The Fever Weekly Team
​