Issue 346
Index:
(Click on any of them to be re-directed)
Editorial
Announcements
Fever Events
Special Events and Tournaments
Fever Jobs
Fever FNG
P.O.W.
Inside Fever
Fever Flair
Behind the scenes
Tech News
E-Sports
Game News
Miscellaneous
Gaming Beats
Funnies
---
Viva La France has won the world cup, was a second choice behind england. Course any team in the World was better than poor US soccer.
Holy Moly is there a ton of videos to be found during the week. That just means there is will be less to read. Within the Misc section I put a huge portion that would really catch several eyes containing a bunch of gameplay trailers, teasers, and just info to watch of things to come.
Also I decided to bring in a top man to double check any mistakes.
Also because i found out just in, and do know that this is my livelyhood at stake.
DivineKitty turned 36 as of July 16th. So wish the demon....angel cat a Happy Birthday.
Thank you for reading and have a nice day!
-
SunKenRock
​
---
A big thanks to [MENTION=76346]Demonya[/MENTION] [MENTION=50355]Gyorn[/MENTION] of the Stats deparment for there report.
Fever Monthly Stats Report - Special Quarterly Edition!
---
Cards Against Humanity Custom Fever Deck Suggestions
A link below will bring you to the place to add your own opinions ,and ideas towards adding more to the CAH game nights.
Direct Link
Anything further, like hosting another night for cards you can contact
DivineKitty
. Forums or Discord.
---
Game Nights:
Calendar
If you would like to help ensure your game's game nights, events, etc. are listed and want to have the ability to post them on the calendar, please let Linessah/Mr Cruz know.
If your game nights do not appear on this calendar over the next few days, please let Linessah, MrCruz , Demonya , or Aussietye know. They will get them squared away. All can be found on discord as well.
To convert the times to your timezone, use the following tool:
Time Zone Converter
. Please check the Discord Events channel for reminders about events. Also with some game nights being made up for that day due to the people whom are on.
*Please contact SunKenRock/Linessah for mention of upcoming event*
---
Clan Jobs:In and out of gaming​
​
Fever Clan Job Roster Master List
This link will take you to everything Fever and provides a table of contents to direct you to what you may seek. If you do not see anything for game that you are looking for, (Or might be interested in starting a group in) contact
Head - @
Thundernut
,@
Kimenu
Deputies - @
MrCruz
,@
Daddy
​
---
Zekkie / Ilhanxtr / hirschfelder / DrFuzzems / DeadlyXion
Hemirie / TiKo / Cheko / Garzer / AvianShepherd
broodbaron8802 / SHAUN_ofthe_DEAD / xUSNxIYAOYASx / Dezma / Jack
Fallflower / Fabiozo / ho.ot / Likeasquare / craft713
C4R15T0P43R / HoLyGriM
---
Last week's

winner was

fyuree

- please congratulate her!
This week's nominees are:
BeanEr
KNOCONTROL
Dual
Please vote for them here ->
PoW-7-16-2018
---
League of Legends:

The Downsides of a Constantly Evolving Game



First Person:

Call of Duty : WW2 -- PC



Starcraft:

Best PvZ I've seen prob since LotV



Smite:

Baron Samdei Nerfs




---
Seems like Phoenix_Ace and the graphics department produced this new updated look for the leaders rank. Also you'll notice this thread with several ideas being worked on for the fever weekly headers.
[MENTION=86981]Phoenix_Ace[/MENTION]
---
[video=youtube;dzOlqzneGd8]https://www.youtube.com/watch?v=dzOlqzneGd8[/video]
[video=youtube;VNWtwtTN_SM]https://www.youtube.com/watch?v=VNWtwtTN_SM[/video]
---
[video=youtube;wgbV6DLVezo]https://www.youtube.com/watch?v=wgbV6DLVezo[/video]
[video=youtube;orP6AtamYhY]https://www.youtube.com/watch?v=orP6AtamYhY[/video]
This Nintendo Switch adapter promises Bluetooth audio support
The Nintendo Switch is the perfect travel companion, but it's desperately lacking in one key area: wireless headphone support. Nintendo added support for wireless headphones via USB dongles last November, but only if you a USB Type-A to USB-C adapter to plug your headphone's dongle into the Switch console's port. Right now, the Switch does not support Bluetooth accessories. But a Kickstarter campaign from a team named Human Things aims to remedy that with their new device Genki.

Launched last month on the crowdfunding site, Genki is a simple dongle for the Switch that promises support for Bluetooth 5.0 and multi-user audio so two audio devices can connect at the same time. It plugs in via the Switch's USB-C port and doesn't require its own battery, with the team behind Genki claiming it draws only a small amount of power from the console itself when in handheld mode. (0.02 watts to be exact.) The adapter can also be plugged into a docked Switch's external ports or tucked away behind the back panel, so long as you purchase an additional $10 dock adapter.

Beyond letting you use most wireless headphones with the Switch, Genki also operates as a connection for third-party Bluetooth speakers, in the event you want a louder broadcast system for the Switch for, say, playing in the backyard. Human Things is asking for $39, or 22 prevent off the eventual standard retail price, for its current lowest-cost pledge on Kickstarter, with a delivery date of November 2018. (The $29 option has already sold out.)

The campaign ends in five days and it's well over its funding goal of $30,000. So it might worth jumping on the prospective product if it looks like it solves a big pain point for you as a Bluetooth headphone user who's been itching to use a nicer pair of cans with the Switch.​
Link for Info:
theverge
---
[video=youtube;Iml7GihVVqg]https://www.youtube.com/watch?v=Iml7GihVVqg[/video]
---
Call of Duty: Black Ops 4 multiplayer beta will include the 'Blackout' battle royale mode
Black Ops 4 will have two separate beta tests, one in August and then another in September.

Activision and Treyarch have revealed the Call of Duty: Black Ops 4 multiplayer beta schedule, which will in fact see two different test sessions held: A "multiplayer beta" in August, and then a Blackout battle royale beta in September.

The "multiplayer beta" will be available first on the PlayStation 4 on August 3-6, but will come to the PC on Battle.net—not Steam—the following weekend. The "early access" beta for people who have preordered the game will begin at 10 am PT/1 pm ET on August 10, while the doors will open to everyone at the same time on August 11. In both cases, the beta will end at 10 am PT/1 pm ET on August 13.

The dates for the Blackout beta in September will be announced later.

"This is an exciting opportunity for us at Treyarch because—not only are we putting more content into players' hands earlier than ever before—we get to break new ground by hosting two separate Beta experiences," studio co-head Dan Bunting said. "Games are better when they're a result of a dialogue with our community. Not only does it improve the game's quality, but it allows us to respond to player feedback and custom-craft the experience to how players engage most with the game."

Beta participants will earn "a unique, one-of-a-kind calling card that they can proudly display," and those who reach maximum rank in the test will also get a "permanent unlock token" that can be applied to any piece of Create-a-Class content after the game goes live. Full details on the Black Ops 4 beta are available on the Treyarch blog.​
Link:
pcgamer
The Battle for Azeroth Pre-Patch Goes Live July 17th!
[video=youtube;A_nVX65K--c]https://www.youtube.com/watch?v=A_nVX65K--c[/video]
Ahead of the expansion's launch on August 14, Blizzard has just announced a date for the World of Warcraft: Battle for Azeroth pre-patch – and it's coming next week. On July 17 the patch will roll out, serving to bridge the gap between Battle for Azeroth and last year's Legion expansion. As always, it's not just tweaks and changes: there's actual gameplay stuff added as well.

This includes a new War Mode, PvP talents "and more" that's yet to be specified. According to the announcement page, War Mode "tears down boundaries and server rule-set distinctions, allowing players on any realm to decide when they want to jump into a world PvP experience full of like-minded players in the ongoing battle between Horde and Alliance."​
Link:
worldofwarcraft
The Boomsday Project is Hearthstone's Next Expansion
The second Hearthstone expansion for Year of the Raven has been announced and five new cards have been revealed.

The expansion launches on August 7!

Ever feel like Hearthstone could do with a few more volatile inventions and diabolical machines? All manner of such mad science and more awaits in The Boomsday Project, the newest Hearthstone expansion. It's bringing 135 new cards when it launches next month on August 7.

Dr. Boom, the infamously powerful Legendary minion from 2014's Goblins vs Gnomes set, serves as the face of the expansion, which pulls its lore from the Netherstorm region first introduced in World of Warcraft: The Burning Crusade. Promising gizmos and gadgets galore, The Boomsday Project's biggest features include the first-ever Legendary spells, single-player brain-scratchers in The Puzzle Lab, and a new Mech-based keyword called Magnetic.

Coming off the back of the spooky theming and somewhat stale meta of The Witchwood expansion, The Boomsday Project looks like it'll mix things up in some fascinating and strategy-warping ways, with cards that facilitate unconventional win conditions and peculiar plans of attack. You can see all the cards revealed thus far in the gallery below, but the ones that really stick out to me are the Legendary Rogue spell, Myra's Unstable Element, and the Druid spell Biology Project. Myra's Unstable Element is the kind of quirky ability that initially seems bad, where you draw your whole deck and instantly go into fatigue - but with the right combination of cards (like, say, Dollmaster Dorian), it could create a power combo finisher that would catch any opponent by surprise.​
Link with more info:
gamesradar
The Bard's Tale 4: Barrows Deep release date set for September
We took a look at inXile's upcoming Bard's Tale 4: Barrows Deep today and found it "a captivating dungeon crawler," which is really good news for people (like me) who have been looking forward to getting their hands on it. Also in the "good news" department, inXile announced today that the game will be released on September 18.

Like its 1980s predecessors, Bard's Tale 4 is a single-player, first-person, party-based RPG set inside sprawling dungeons filled with puzzles, traps, and monsters. But it "doesn't feel beholden to the past," Wes said in his preview, and that's good because those early games were viciously difficult. I've knocked off dungeon crawlers from Eye of the Beholder to Legend of Grimrock, and I don't think I ever even came close to finishing The Bard's Tale. But I sure loved knocking around in its tunnels.

The Bard's Tale 4 will be released on Steam and GOG, and is available for preorder now at bardstale.com. Preordering the Platinum or Ultimate edition will net you access to the beta, which went live today, and Kickstarter backers can get in on that action too.​
Link:
pcgamer/
Microsoft has announced a new Xbox one controller - the Sport White Special Edition.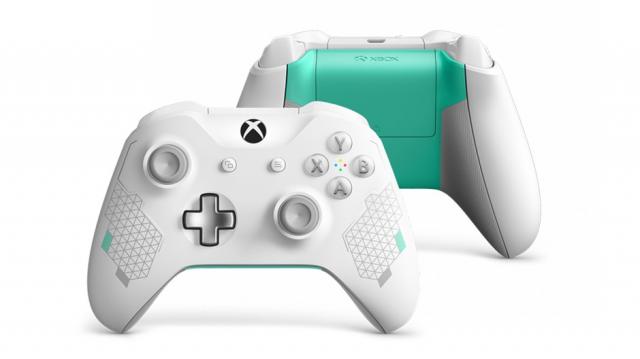 It will launch in the US and Canada on July 31 for $69.99 at the Microsoft Store and participating retailers. It will launch in the rest of the world on August 7.

Inspired by trends in athletics and sports lifestyle, the Xbox Wireless Controller – Sport White Special Edition is the first controller in the new Sport series. It features an energetic color palette with a fresh white base color (the same white offered through Xbox Design Lab), mint accents, and grey and silver patterns. The grey rubberized diamond grip on the back of the controller is designed for comfort and will help you stay on target throughout your gaming session. In select markets, this controller comes with 14-day trials for Xbox Live Gold and Xbox Game Pass. Check with your local Microsoft Store for details.

To add to your gaming endurance, you can keep your controller fully charged with Controller Gear's officially-licensed Xbox Pro Charging Stand. The Sport White Special Edition Xbox Pro Charging Stand is a premium charger offering a sleek design and a seamless charging experience. Built with the same high-quality material as the Xbox Wireless Controller – Sport White Special Edition, it's always an exact match and perfect fit. Each Xbox Pro Charging Stand comes with a premium charging stand, battery cover, rechargeable battery, and 6-foot power cord. The Controller Gear Sport White Special Edition Xbox Pro Charging Stand will be available in North America starting August 7 for $49.99 at your local Microsoft Store and select online retailers.

All Xbox Wireless Controllers are compatible with the Xbox One family of devices and the Sport series controllers include fan-favorite features you know and love, such as a 3.5mm headphone jack and Bluetooth technology for gaming on Windows 10 devices or Samsung Gear VR. You can also take advantage of the custom button-mapping feature through the Xbox Accessories app.​
Link:
vgchartz
---
[video=youtube;pv2RFOSaX8M]https://www.youtube.com/watch?v=pv2RFOSaX8M[/video]
[video=youtube;vYm7mYd0SgE]https://www.youtube.com/watch?v=vYm7mYd0SgE[/video]
[video=youtube;IgqnrpHfong]https://www.youtube.com/watch?time_continue=3&v=IgqnrpHfong[/video]
[video=youtube;WpEcpdlc2_8]https://www.youtube.com/watch?v=WpEcpdlc2_8[/video]
[video=youtube;JLaYOFFKoyQ]https://www.youtube.com/watch?v=JLaYOFFKoyQ[/video]
[video=youtube;CR50PJUWm_M]https://www.youtube.com/watch?v=CR50PJUWm_M[/video]
[video=youtube;u0ttq9M7ZC0]https://www.youtube.com/watch?v=u0ttq9M7ZC0[/video]
[video=youtube;h1qfePlZ-Vw]https://www.youtube.com/watch?v=h1qfePlZ-Vw[/video]
[video=youtube;yny4UwGYa60]https://www.youtube.com/watch?v=yny4UwGYa60[/video]
[video=youtube;rpu_dZkqvZ0]https://www.youtube.com/watch?time_continue=1&v=rpu_dZkqvZ0[/video]
---
[video=youtube;u2W1Wi2U9sQ]https://www.youtube.com/watch?v=u2W1Wi2U9sQ[/video]
[video=youtube;kLp_Hh6DKWc]https://www.youtube.com/watch?v=kLp_Hh6DKWc[/video]
[video=youtube;GGU1P6lBW6Q]https://www.youtube.com/watch?v=GGU1P6lBW6Q[/video]
---
[video=youtube;7lfGK0WY_Vg]https://www.youtube.com/watch?v=7lfGK0WY_Vg[/video]
[video=youtube;-SYdJEcWRxU]https://www.youtube.com/watch?v=-SYdJEcWRxU[/video]
[video=youtube;krq6-1ht_kk]https://www.youtube.com/watch?v=krq6-1ht_kk[/video]
[video=youtube;PMd8in9-vlU]https://www.youtube.com/watch?v=PMd8in9-vlU[/video]
[video=youtube;Y2a-DfBaNeo]https://www.youtube.com/watch?v=Y2a-DfBaNeo[/video]
[video=youtube;1AULdtZ7y4c]https://www.youtube.com/watch?time_continue=5&v=1AULdtZ7y4c[/video]
Back To Top
---
Thank you for reading and have a nice week!
-
The Fever Weekly Team
---
​